04 JUL 2013: FFS II 250 - 12 (Broken) Years Of FFS!
Thank you everyone! Good night!

30 JUN 2013: FFS II 249 - Explosion!
Kaboom.

29 JUN 2013: FFS II 243, 244, 245, 246, 247, 248
Almost there...

26 JUN 2013: FFS II 241, 242 - Reds Missed The Red
Update #3. Because it's a six-comic kind of day.

26 JUN 2013: FFS II 238, 239, 240 - Hogtied
Second update today. You should get another comic or two (or three) in the next couple hours - assuming my Mountain Dew holds out.

26 JUN 2013: FFS II 237 - Mr. President
I expect more comics very soon...

15 JUN 2013: FFS II 235, 236 - Afterglow
Yep!

09 JUN 2013: FFS II 234 - Huggably Soft
Let's make it a triple update.

09 JUN 2013: FFS II 232, 233 - Insecurities
Yay, double update! I feel like this is sort of edgy, it might not be. I've been wanting to do these little sidestories for a while.

06 JUN 2013: FFS II 231 - Horizontal Tango
Yeah, I went there. You may notice there are only 23 days left in June and 18 comics to go. I have too. Did You Know? Tara is attracted to both SJ and Haley. This may be important later.

29 MAY 2013: FFS II 230 - Cone of Uncertainty
Comic's a little late. Sorry for that. At any rate, this is the final comic of the normal Wednesday/Saturday release schedule. The next 19 comics will be released randomly throughout the month of June with the final comic, #250 released on Thursday, July 4.

25 MAY 2013: FFS II 229 - Spreading Rumors...
..for fun and profit! I haven't used RittZ in a while. Why not, eh?

22 MAY 2013: FFS II 228 - Da Ba Dee
Tails wants to have a meeting. Sonic has other ideas. Priorites...

18 MAY 2013: FFS II 227 - Nice butt
Ah, time to flirt with something a little more edgy. What are EVO and Haley going to do for a few hours to pass the time? When did Tara become a connoisseur of derrieres?

I've officially gone crazy.

15 MAY 2013: FFS II 226 - EVO's a wreck
Yep, Haley's not dead.

11 MAY 2013: FFS II 225 - Haley Dies
I'll let this one speak for itself too.

Final 25 comics to go!

07 MAY 2013: FFS II 224 - Heroes
I'll let this one speak for itself.

04 MAY 2013: FFS II 223 - Explosive Decompression
I've been out of town at a conference all week. I'm home and here's a comic! Sorry it's a bit late. Schedule should be normal until June.

30 APR 2013: FFS II 222 - Yay. Ball Lightning!
Well, I fully expect to not be able to update tomorrow when I'm supposed to, so here's tomorrow's comic a day early! Enjoy!

27 APR 2013: FFS II 221 - Hell hath no fury...
Haley seems to have a thing for EVO, I think. Maybe it's just me.

24 APR 2013: FFS II 220 - Overpowered Bat
The nerfbat seems to have broken stuff.

20 APR 2013: FFS II 219 - SJ Dreams in HD
I've been wanting to do a comic with my Second Life models of Reds and SJ for a while. This seemed like a fun little distraction for this comic :D

17 APR 2013: FFS II 218 - SJ Needs A Parachute
That explosion sent him flying!

13 APR 2013: FFS II 217 - SJ Needs No Help!
He just needs a few minutes to stratergize!

10 APR 2013: FFS II 216 - Borrow a Few Levels...
Take 400 levels and call me in the morning.

06 APR 2013: FFS II 215 - Hidin' in the Corn Fields
Shootin' stars with LAZORS. Seems like things are about to get more interesting.

03 APR 2013: FFS II 214 - EVO Flies Really Fast
And here's your regularly scheduled FFS II. A quick little boss fight.

01 APR 2013: Final Comic, July 4th
July 4th is the 12th anniversary of FFS #1 and the 11th anniversary of FFS II's first comic #151. I think it's time to put the series to bed. FFS II #250: The Final Comic, July 4th, 2013.

Look for more comic fun with Project Trinity following FFS II in July.

30 MAR 2013: FFS II 213 - Mmm, chicken wings...
Check out the corn fields! Did You Know? SJ, Tara, and Dice all traveled back in time in FFS. SJ was there for 2 years and 5 months while Tara and Dice were there for 1 year and 11 months. As such they are physically about 2 years older than they should be in FFS II. As such, Haley is significantly younger than SJ even though they're effectively twins. Since the House of Acorn makes all the laws anyway, they clarified how this works: (using SJ as an example) SJ is considered to be 19 years old with an effective birthdate about 5 months before his actual birthdate on the calendar; Haley is 17 because she has not experienced time travel.

27 MAR 2013: FFS II 212 - Check your messages.
Then again, you don't ragekill two bosses that way.

23 MAR 2013: FFS II 211 - Return of Angry Tails
...and he's a little sad too.

20 MAR 2013: FFS II 210 - Tethered
Hehe, I had fun with this one.

16 MAR 2013: FFS II 209 - Wall of Text :P
Here's a wall of text. Enjoy heheh. Seriously though, lots of story explanation here.

14 MAR 2013: Thank you RageTH
I was a bit rushed yesterday and forgot to give special thanks to RageTH for providing the SJ motorcycle sprites. Thank you RageTH!

13 MAR 2013: FFS II 208 - Punch It!
Wee, 208! Did You Know? FFS/FFS II is a series that has many romantic subplots going on simultaneously. I've gone back and forth often about how some of the characters should ultimately end up in relationships with. I settled early on Sonic/Sally being a couple and Tails/Amy being another couple. Knuckles/Rouge didn't feel like it would work out in the end, so I broke them up and stuck Knuckles with Cream because I don't think anyone would see that coming. Rouge and Shadow have a chemistry that seems to be building that might be the subject of some future comics. I could go on for a while with how I could mix and match them, but I think you get the idea.

09 MAR 2013: FFS II 207 - EVO is Evil
Dreamweaver works again, yay. Here's FFS II 207. Enjoy!

06 MAR 2013: FFS II 206 - When in Doubt: Orbital Jump
Tails is a little bit upset, methinks.

Also of note, Dreamweaver decided today that it was no longer valid and went kaputski, refusing to let me reactivate. Therefore, I bring you today's update via Notepad++! I remember how slow and annoying doing HTML is without an IDE, so hopefully this doesn't last too long. Since Dreamweaver is dead, it likely means my copy of Flash is dead too. (Possible Tease Alert) I might need to get that fixed too, hehheh.

02 MAR 2013: FFS II 205 - Nuke and Run...
Ever wonder what it's like to be on the opposite side of a boss fight? Well here you go. Also introducing "Project Trinity", my new web comic coming in July.

27 FEB 2013: FFS II 204 - 999999 HP
Check her pockets for a gameshark... Did You Know? FFS II starts on what is July 16th. It's now July 19th in the story. (The ice areas are in the Southern Hemisphere.) By comparison, FFS spans over two years: Disc 1 to Disc 2 has a gap of six months and Disc 2 to Disc 3 has a gap of 22-23 months (I called it two years for simplicity).

23 FEB 2013: FFS II 203 - Hammer Slash
They seemed to not expect any resistance. They thought wrong... Did You Know? FFS 40 and FFS 59 refer to another story called Chaos. This was a fanfic outline with some chapters completed that followed Harry and SJ as they grew up. Its story uses different canon than FFS. Ultimately, myself and the other author were not happy with it and pulled the chapters we had written. We rewrote a large portion of it, but still have large gaps in it. I'm still not overly happy with it in its present form, so it's got at least one more rework before you guys get to see it again, and it's a fairly low priority for me. It's targetted at a more mature audience than FFS is (think PG-13 to R rating), and a large portion of it follows SJ and Tara growing up together, becoming best friends, and eventually falling in love and getting married. As of FFS II Tara and SJ are engaged, and there's a planned flashback that will explore a little more of that.

20 FEB 2013: FFS II 202 - Stiff as a Board
Goji's in charge. Hide. Did You Know? I'm starting another sprite comic this summer. More details in the coming weeks.

16 FEB 2013: FFS II 201 - Level +100
Tails seems a little angry. Seems like it anyway.

13 FEB 2013: FFS II 200
Here it is. 200. Too big for the homepage.

09 FEB 2013: FFS II 199 - Both?
I present to you, the last comic leading up to #200. This has been a lot of fun to do and I really hope you like what's in store for Wednesday.

06 FEB 2013: FFS II 198 - Power Down
Here's #198. No witty message today.

02 FEB 2013: FFS II 197 - All Your Base...
Happy Groundhog Day! #197 is up. Feel free to Nostalgia.

30 JAN 2013: FFS II 196 - McYellow Airlines
Here's #196! Just 2 weeks away from #200!


26 JAN 2013: FFS II 195 - Happy EVO
I'm glad I got to do this comic. Originally the story arc for #190-192 was planned to go longer, so this comic wasn't originally going to be made, but those comics worked better as 3 parts instead of more, so I got to explore EVO's internal struggle a bit more. Enjoy #195!


23 JAN 2013: FFS II 194 - Best of Thirteen!
SJ sucks at ping pong, yet his interdimensional counterpart doesn't. Go figure. Did You Know? FFS II 200 is done, ready for release day!


19 JAN 2013: FFS II 193 - Mmm. Ice Cream.
EVO's discovered he loves ice cream! Here's 193.


16 JAN 2013: FFS II 192 - Flashback Part 3
Part 3 of 3. Little late today. Had some technical difficulties. Here's the comic!


12 JAN 2013: FFS II 191 - Flashback Part 2
Part 2 of 3. Male SJ needs a reboot... hehe.


09 JAN 2013: FFS II 190 - Flashback Part 1
Here's the first of a three part comic. Enjoy!


05 JAN 2013: FFS II 189 - SJ is Broken again...
...the male one I mean!

Here's FFS II 189.

Did you know? FFS II 189 was up 2 days early over at the munkki.net forums. Hehehe


02 JAN 2013: FFS II 188 - Happy New Year!
Happy New Year everyone! Enjoy #188!


31 DEC 2012: Final Update of 2012!
It's not a comic, but I just finished the floorplan of the base. It's a little extra I thought you might enjoy.


29 DEC 2012: FFS II 187 - What?
Hey, I finally got the archive pages to center properly in Firefox and Chrome! Turns out it was a stylesheet error and I needed to assign all the tables a class.

Anyways, FFS II 187 is up! Did You Know? Each comic takes about 10 minutes per panel assuming I don't need to edit any sprites or backgrounds. That's about 90 minutes per comic today.


25 DEC 2012: FFS II 186 - Heyyy Sexy SJ.
Merry Christmas ya old Building and Loan!

I'm feeling festive, so here's the comic a day early. Enjoy!


22 DEC 2012: FFS II 185 - Armageddon Averted?
Did everyone enjoy the end of the world that never happened? Forunately, I don't put stock in such things! So here's a comic! I've begun the prep work for FFS II 200. I'm planning a monster 50 panel comic.


18 DEC 2012: FFS II 184 - Unholy Alliance?
Hey all, I'm going to be home late tonight, so I'm posting the comic early.

The storyline should really start shaping up toward FFS II 200 soon. I hope you're enjoying my offering so far! Did You Know? Back in the era of DPI, I chose to set my comic apart from the rest by avoiding adult language. I'm a little older now, as are most of my readers, FFS will remain fairly clean in its language, but now and again some more colorful language may show up. Hehheh.


15 DEC 2012: FFS II 183
I went back and forth for a while about actually posting this today given the horrific events in Connecticut Friday. As you can see, I decided to go ahead and post it hoping that maybe it can serve as a momentary distraction from what has been a truly sad day.


12 DEC 2012: FFS II 182 - Kapew!
Kapew Kapew. Lasers.

All I can say is, I had a lot of fun setting up for FFS II 183. See you Saturday for it!


08 DEC 2012: FFS II 181 - He's baaaack
EVO's back, have a nice day! Did You Know? FFS is usually unscripted. I just have a rough idea of where the comic is going and just make whatever pops into my head. Sometimes I have a script for multi-comic arcs. FFS II's direction today is completely different from how it was 9 years ago.


05 DEC 2012: FFS II 180 - Updating Wed. and Sat.
We're going to try this on a trial basis for the month of December. I've been on sort of a comic making frenzy and we're going to burn some off.

With that, I bring you a late in the day Wednesday comic!


05 DEC 2012: I'm such a tease.
FFS II 181 Teaser:




FFS II 183 Teaser: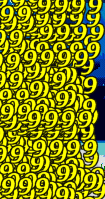 04 DEC 2012: FFS II 151 updated, FFS II comic URLs
Cleaned up FFS II 151 and corrected errors. In addition, I've updated the URL on the comics FFS II 152-166 to the current website URL.

Did You Know? Before I restarted the comic this year there were usually fewer than 20 minutes between me finishing a comic and it being live on either DPI or here. As I got busier, my updates got more erratic. Today, I'm operating under a reserve system and have several comics completed ahead of this week's. Look for more "Did You Know?" in the coming weeks.

03 DEC 2012: Revisited FFS
I've gone through and cleaned up all the old non-animated comics from FFS #1-149. I corrected spelling errors, fixed some antialiasing, and fixed some other mistakes. They all now have a current URL on them.

01 DEC 2012: FFS II 179 - SJ's Broken
New comic. EVO's back? I guess you'll just have to find out what happens in FFS II 180! New cast page in progress - including some future cast members. I think you might have fun thinking about how a certain one is going to be implemented (hehheh). Also, for those that haven't checked it out, head on over to munkki.net and check out the forums. I post to "The Main Hang" fairly regularly under the handle "kabobness" and include some extras that aren't directly linked here.

29 NOV 2012: Credit where credit is due
I finally did the audit and found all the people/companies that made all the sprites I use, they are now credited on each of the archive pages.

24 NOV 2012: FFS II 178 - Gobble Gobble
Up a few hours late. I'm blaming turkey!

17 NOV 2012: FFS II 177 - Have I jumped the shark?
Here's a comic. I hope you enjoy!

10 NOV 2012: FFS II 176
Without going into too much detail, I'm not using two of the characters that I no longer have permission to use. I decided to write them out of the series back in 2007 and this is what remains. I chose not to refer to them by name. I'm reasonably sure you will be able to figure out who they are by reading previous comics. But here's 176. Please feel free to send me an email or post to Twitter or the Final Fantasty Sonic II thread on Munkki's Main Hang. I really want to know how you're enjoying the return of FFS and any comments you have.

03 NOV 2012: FFS II 175 - double length!
Now I remember why these things are such a time sink. Hehheh.

Here's 175. Enjoy!


27 OCT 2012: FFS II 174
I heard you wanted more.

175 should be out next Saturday. It will be roughly twice as long as a normal comic.


20 OCT 2012: FFS II 173
Updated Saturdays!


22 SEP 2012: Comics are in Progress
I just wanted to let everyone know that this is absolutely real. There are new comics in progress and some of them are complete. I'm trying to build up a back log, so that I can take breaks and still publish content. Still not convinced? Here's a preview from FFS II 173: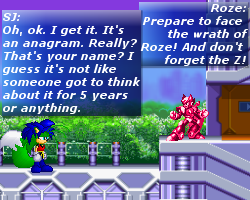 19 SEP 2012: I'm back! (YAR!)
ARRR! ME HEARTIES! It's been so long, but it's good to be back. I've decided to continue FFS II as a weekly release beginning on October 20. I'm done with the Flash comics because they take too long. I'm also done with the drawn comics because I suck at drawing. All the old content except for FFS and FFS II have been removed. I thank everyone that contributed to the site, but I continue on solo. Some other new content may come in the future, but for now enjoy the comic!